netbikes Projects Index
Honda CB125J also known as a CB125S - November 2012
November 2012. Got this bike when I purchased a CX500 lot, it sat waiting in a dark corner for around 12 months.
Motor already removed along with a bunch of other parts but it was all still there all be it is sad neglected condition, so I dig it out from its involuntary recluse and begin to give it new life.
Below is the story in pictures, enjoy and comment if you wish.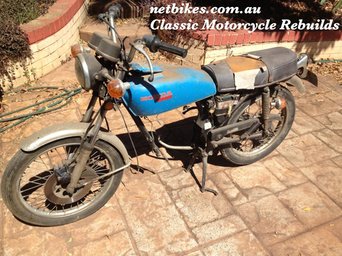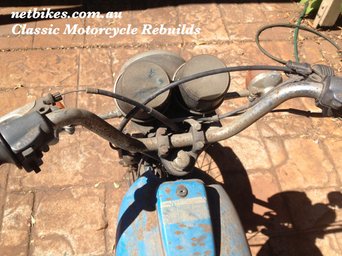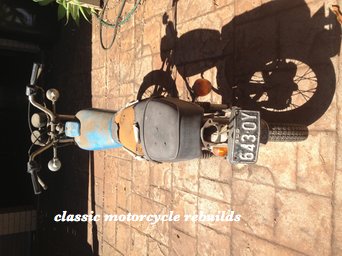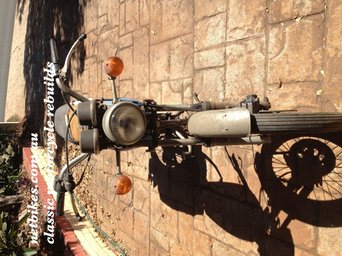 ---
Into the light it comes to fully reveal its sorry state.
---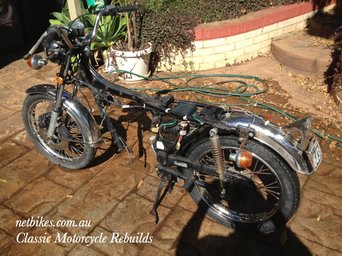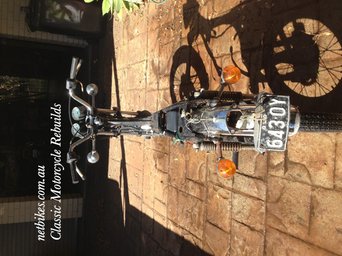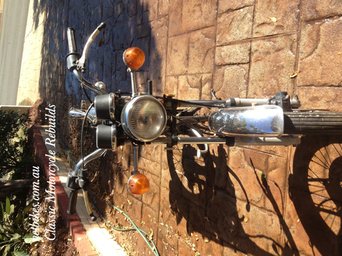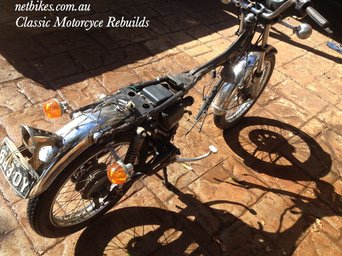 ---
Now to wash it up to see what I have to play with. It's not that daunting, some, insert a lot), of intricate cleaning and it should come up a treat.
---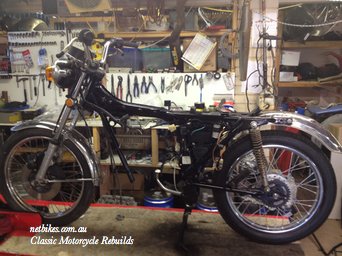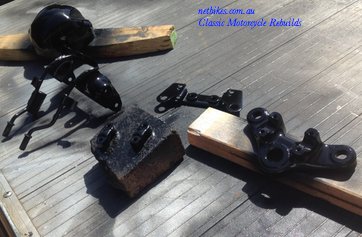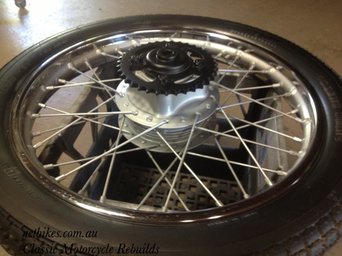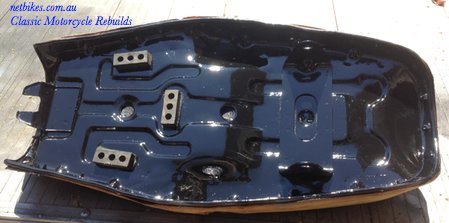 ---
So it is up on the work stand to strip out all the electrics, airbox etc so I can sand and paint the frame.
Accessory parts are also sanded and painted.
Rear wheel get the treatment along with new bearings. Front end got the same but no pics yet.
Seat base gets a new lease on life.
---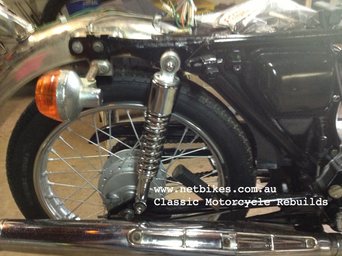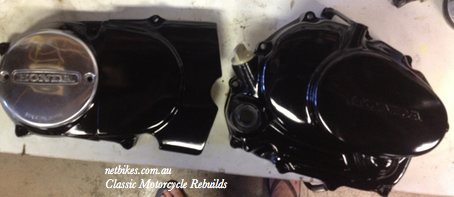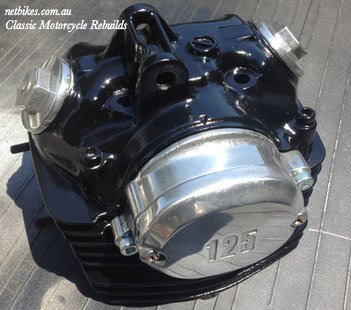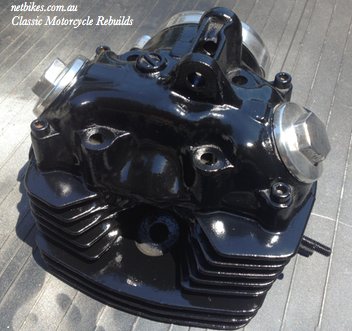 ---
New shocks fitted, old one still worked however rust cancer had set in on the chrome.
Engine covers given the going over with new seal for the kicker.
Head got the same and alloy polishing with new valves fitted.
---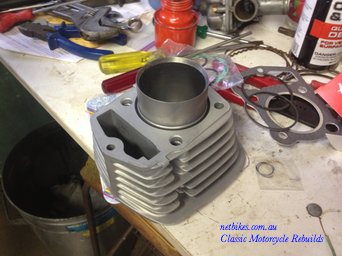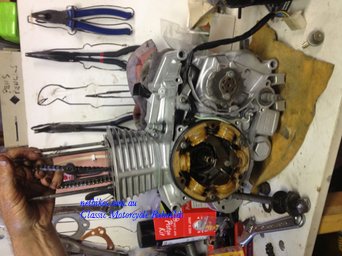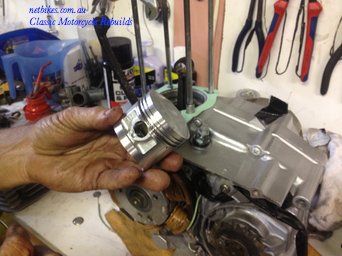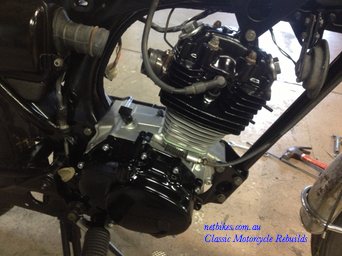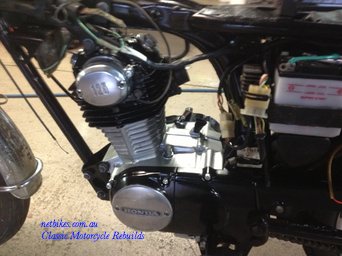 ---
Main engine time, barrel is bead blasted and bored to fit new piston.
Fitting new cam chain, and btw the cases were also cleaned up and painted.
Lets's get that nice new piston fitted.
Motor all better now and gone home to roost.
---
Other stuff done but not limited to were clutch serviced, new front wheel bearings, fork lowers polished, new fork seals and oil, carb cleaned, fitted and set, new battery fitted, all electrics sorted, new tail light lens and more I forgot..... Hey lets do a movie now, afterall what's a web page without a movie now days.
---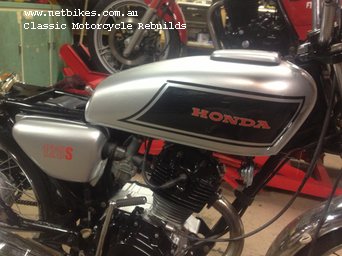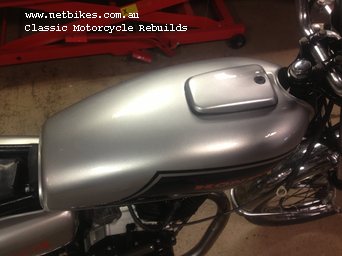 ---
Now for the real pretty work, paint work back from the painters and fitted. Just have to wait for the seat to be done and it is done. Better pics after that.

Coming up, Kawasaki Z750 twin, Honda CB750 K2, Honda NSR250, Yamaha R3 mild cafe racer.
---
---
Seat sorted and fitted, got to say I wasn't thrilled with the seat finish, it is a little bulky looking on the sides, I may have to take it back for a bit more trimming.
That said the bike is now complete and ready for road use. See final pictures below and short vid of the road test. My next project, and in fact under way now is a Kawasaki Z750 twin, look for that page soon.
Cheers. Chris Dupen.
---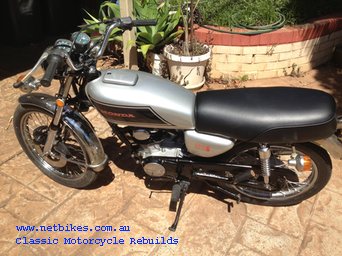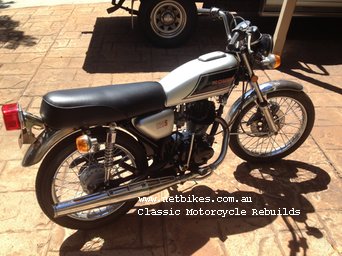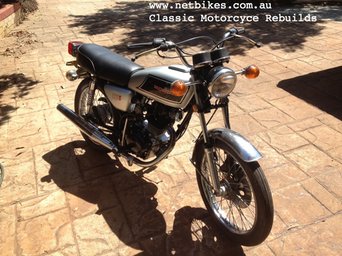 ---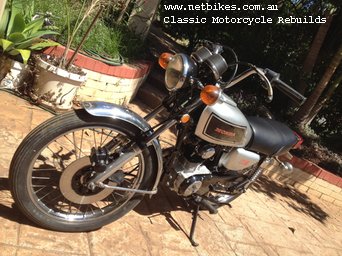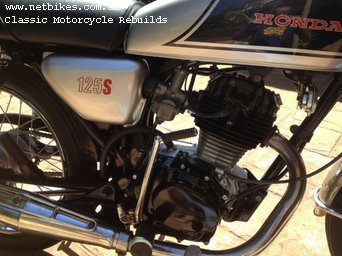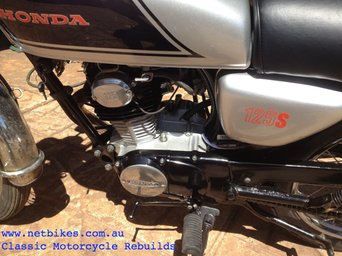 ---
---
+++++++++++++++++++++++++++++++++++++++++++++++++++++++++
netbikes is a registered business with the Queensland office of Consumer Affairs.
Business Names Act 1962 - 1990 Section 7 (4) Business # BN5951173
++++++++++++++++++++++++++++++++++++++++++++++++++++++++++
---