Motor: all alloy cases, heads, barrels and carbs vapor blasted, crank has new rods, bearings and seals,
top end has new pistons, rings and pins, pistons are +2mm making it 521cc.
Chrome parts are original, cleaned up and present well but not concours.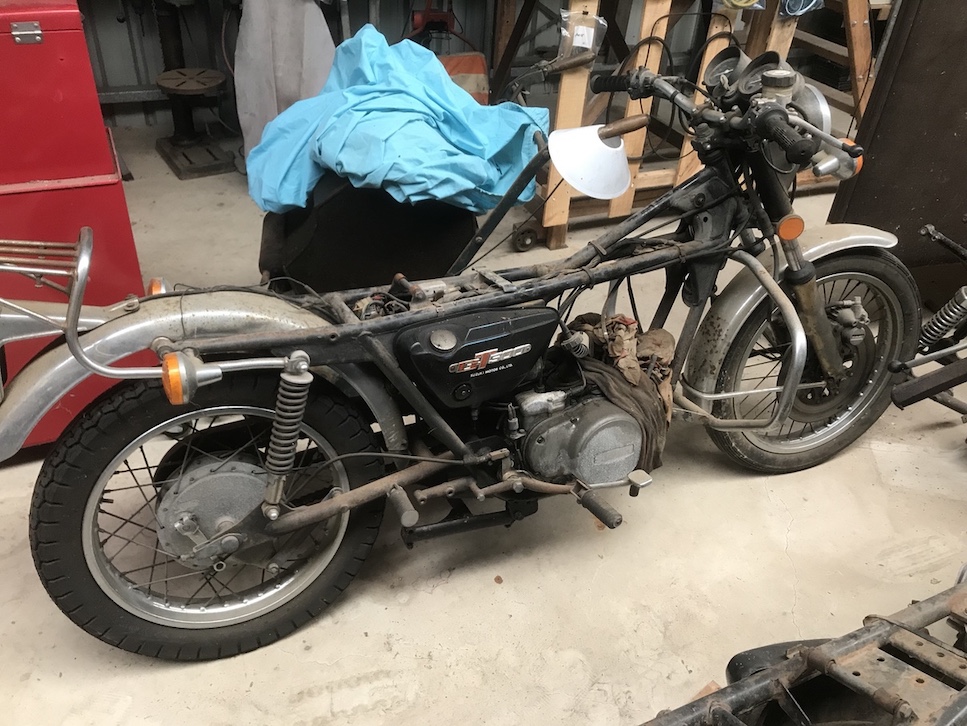 As found, it did come with the tank and seat
and a spare complete T500 motor that I can use the barrels and heads.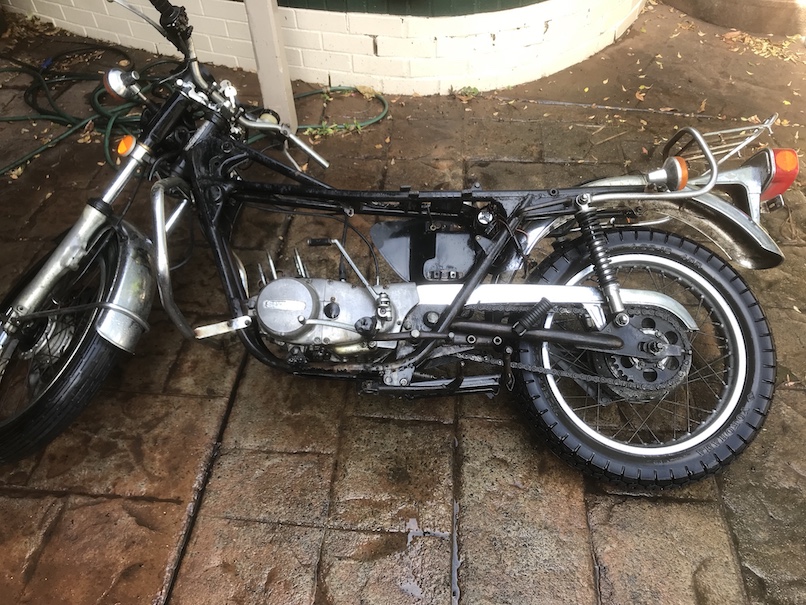 First job, wash it, I like to start clean.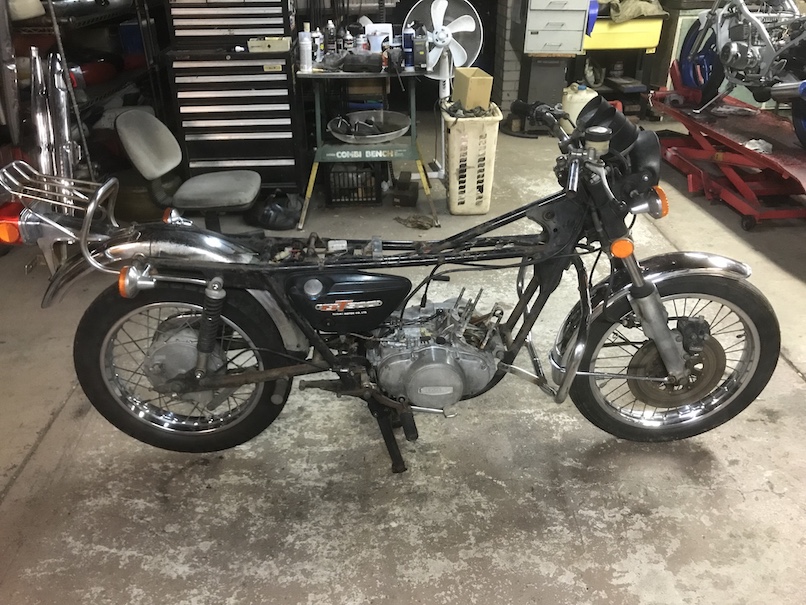 Not too shabby, a nice start, the strip down begins.
Below now are pics not necessarily in any particular order.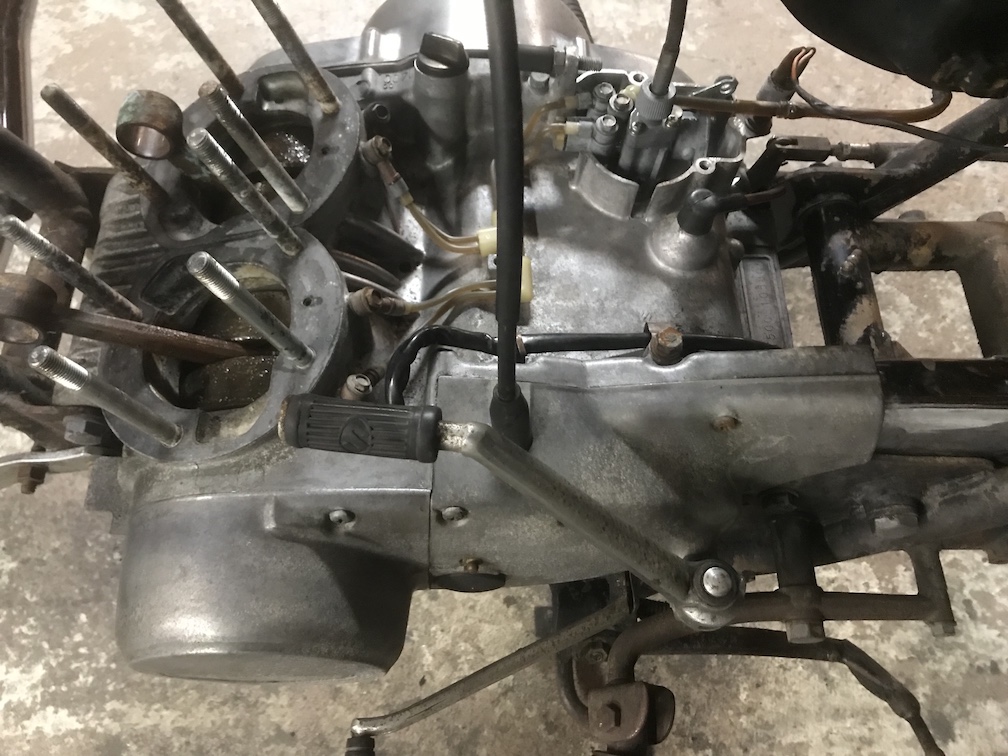 So start with the motor, overall look after cleaning was good,
crank moved freely although it was going to be fully rebuilt anyway
I also tested for spark at this time and it was found to be working.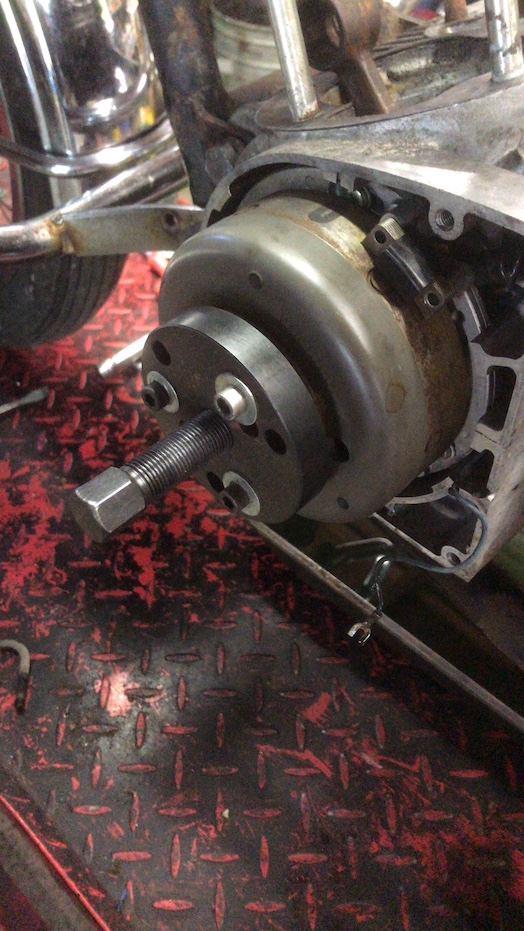 As Ringo says, it don't come easy, it took some.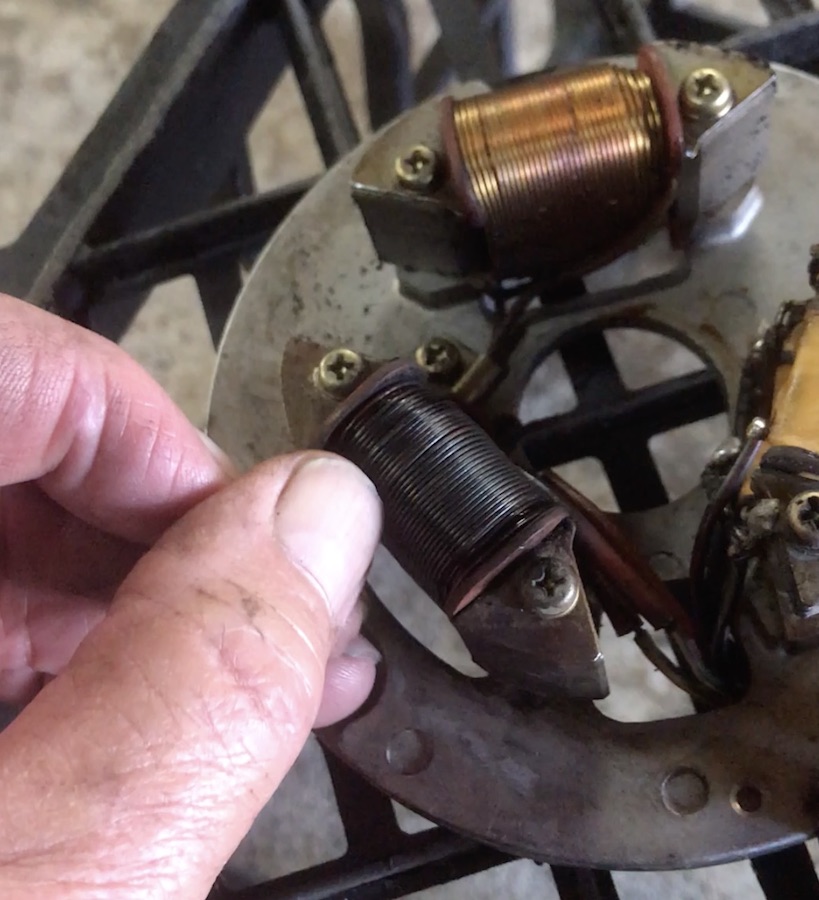 However stator found to have a bad lighting coil.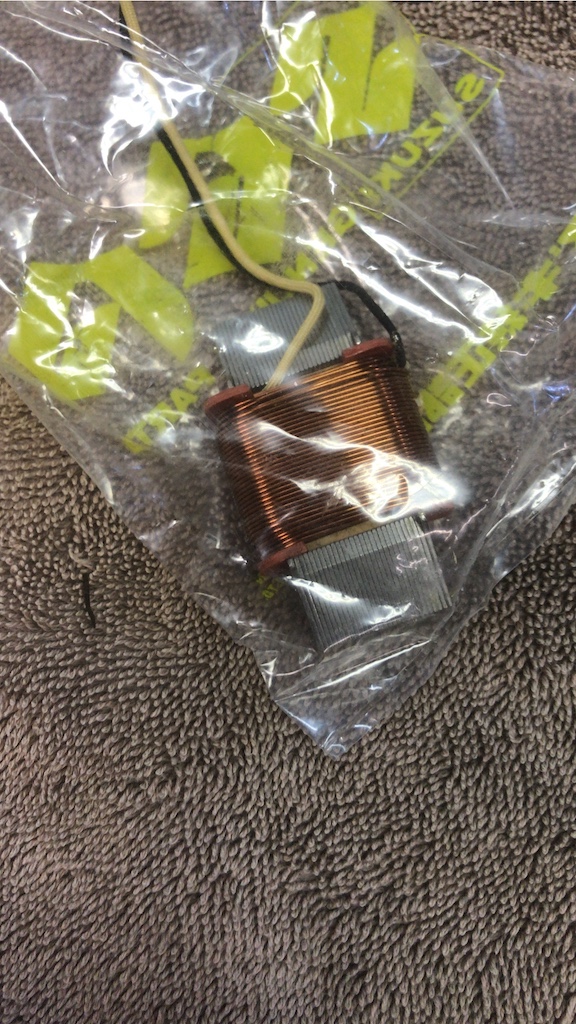 A new one was sourced costing $143, wow.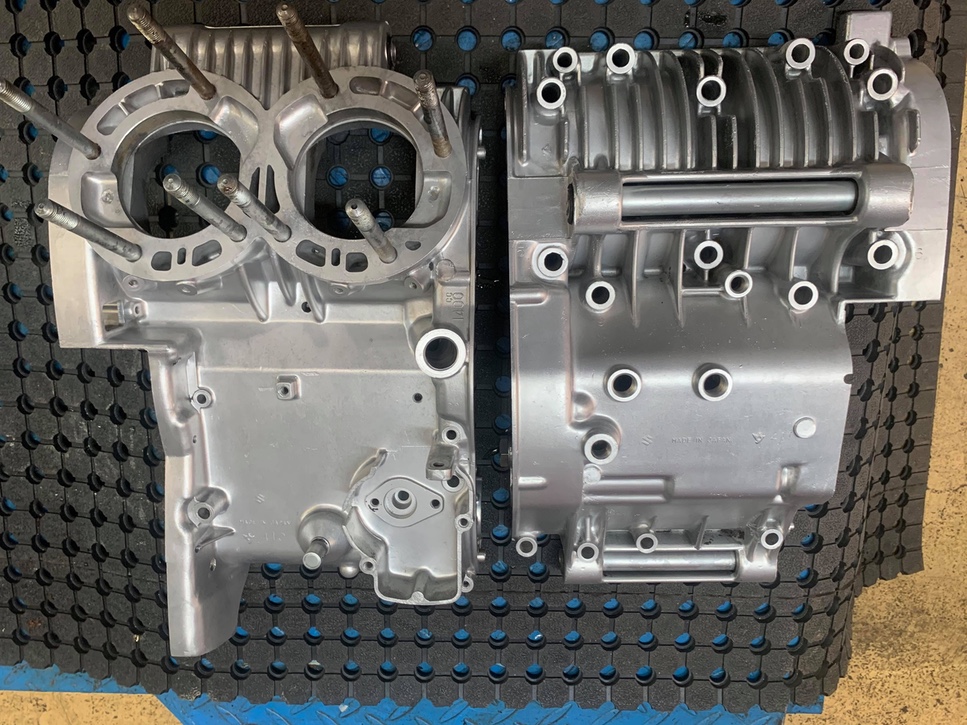 So motor fully stripped and cases vapor blasted.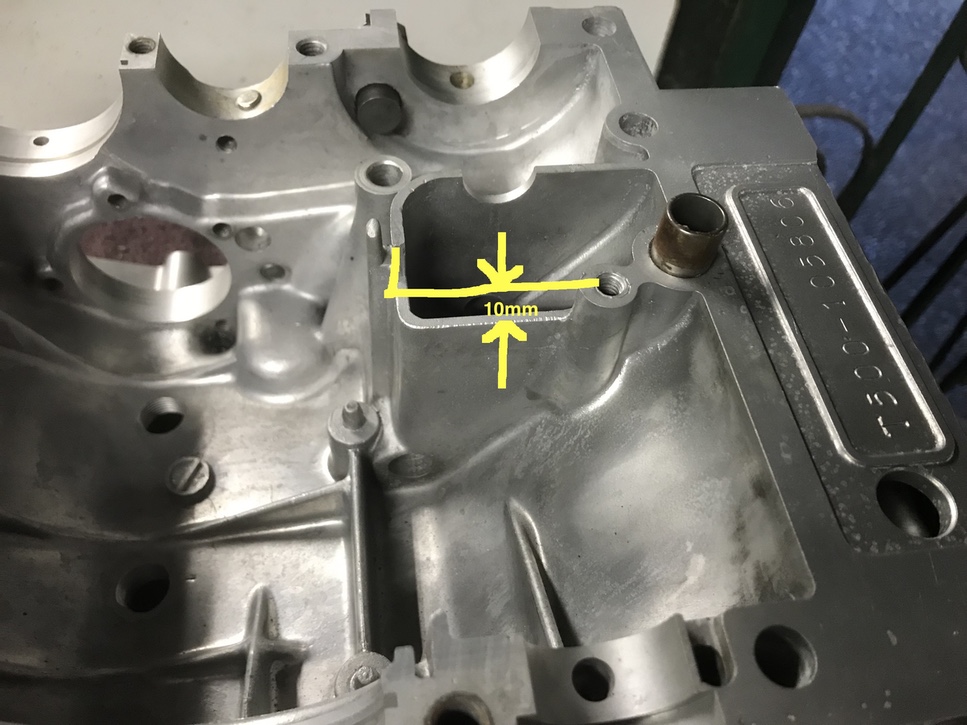 This motor already for 1400cc of oil
but I measured it up if someone wants to modify their 1200cc motor,
just build the wall up to 10mm below the kick shaft clamp screw.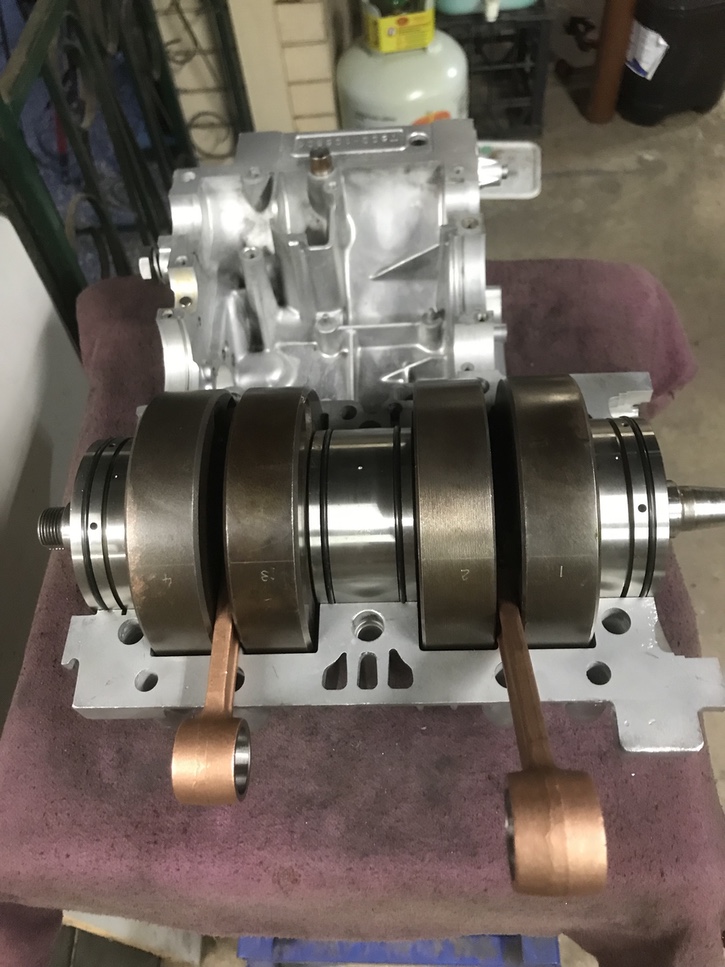 Crank with new bearings, seals and rods.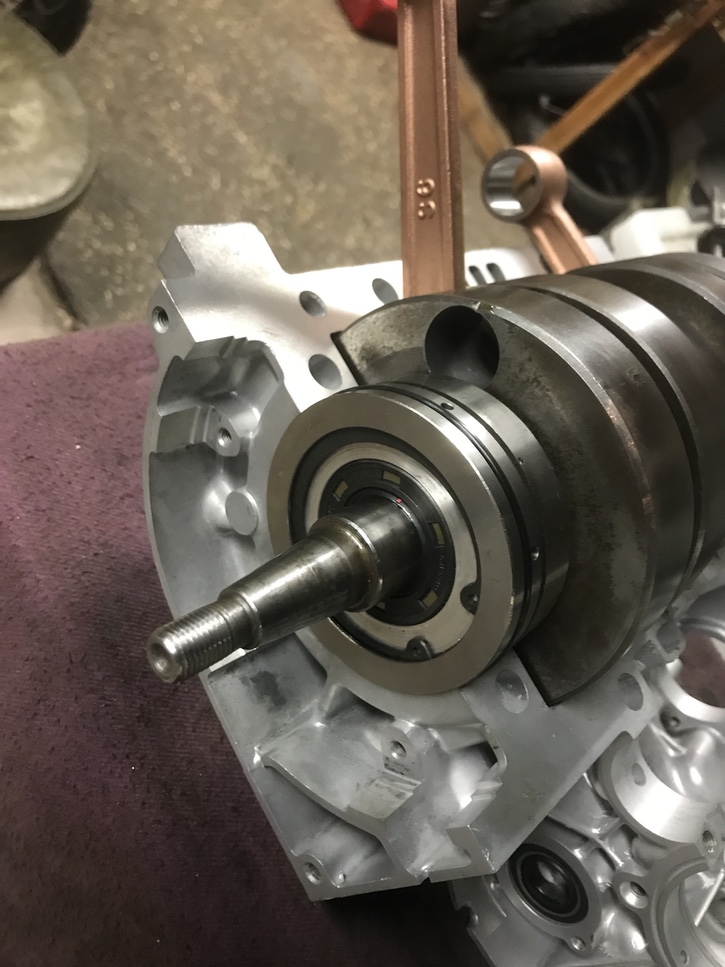 So there was an issue with Cruizinimage parts,
the seals were loose in the bearings
so my guy made up some sleeves and sourced different seals.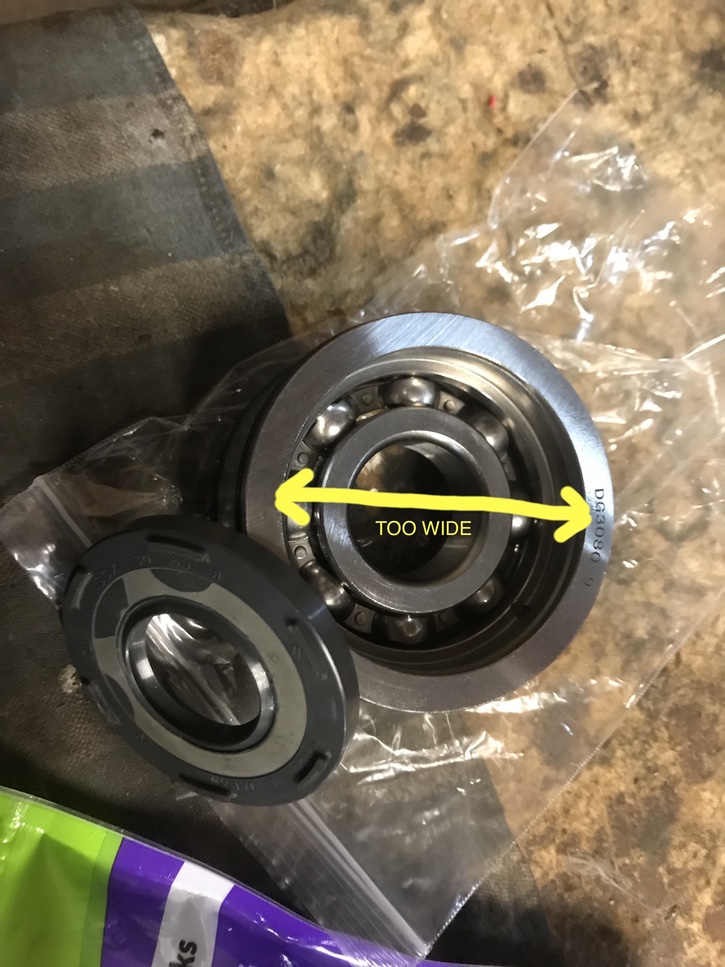 This area was not machined correctly for seal tight fit.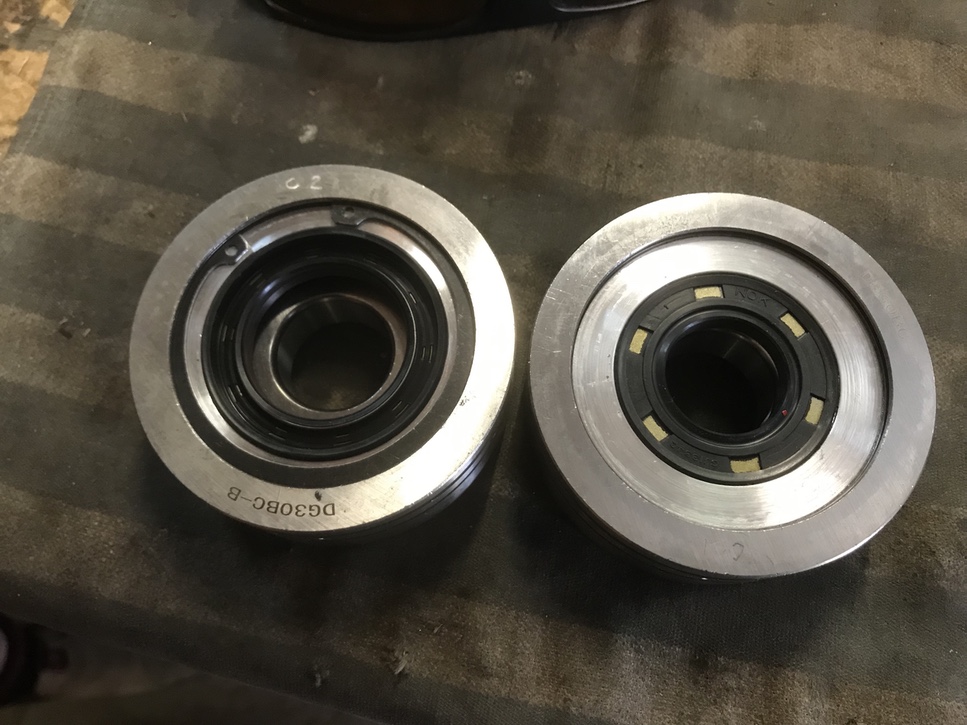 A closer look at the made up sleeve.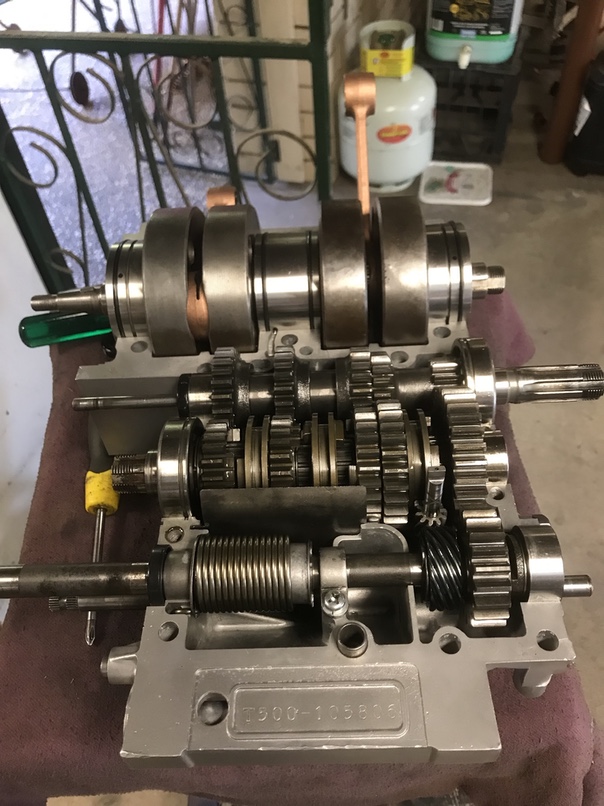 Time to remember what goes where,
yep I remembered :)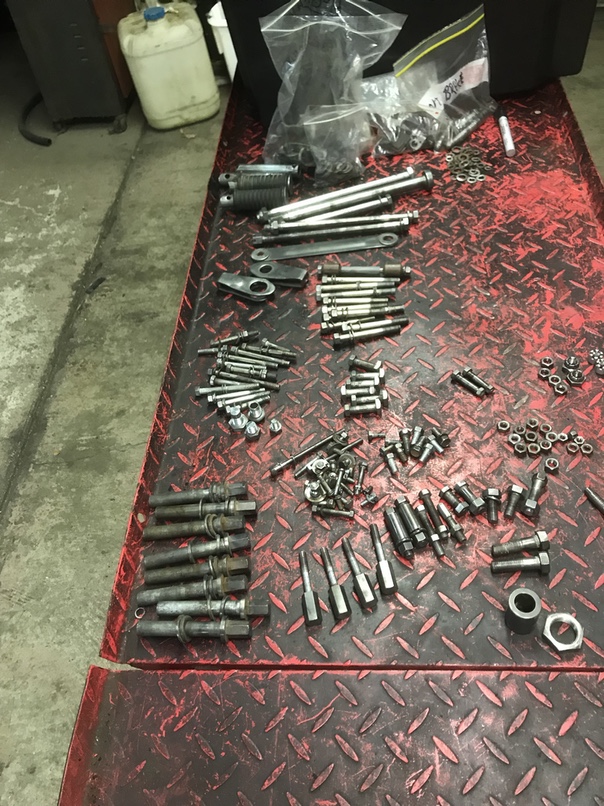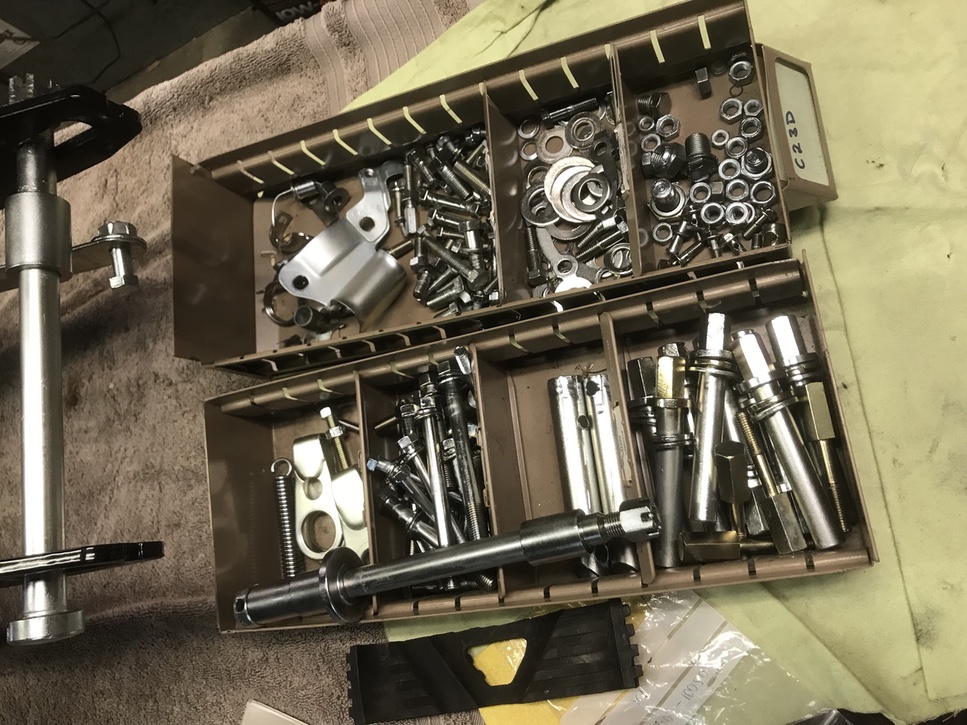 All the threads nicely re zinc plated.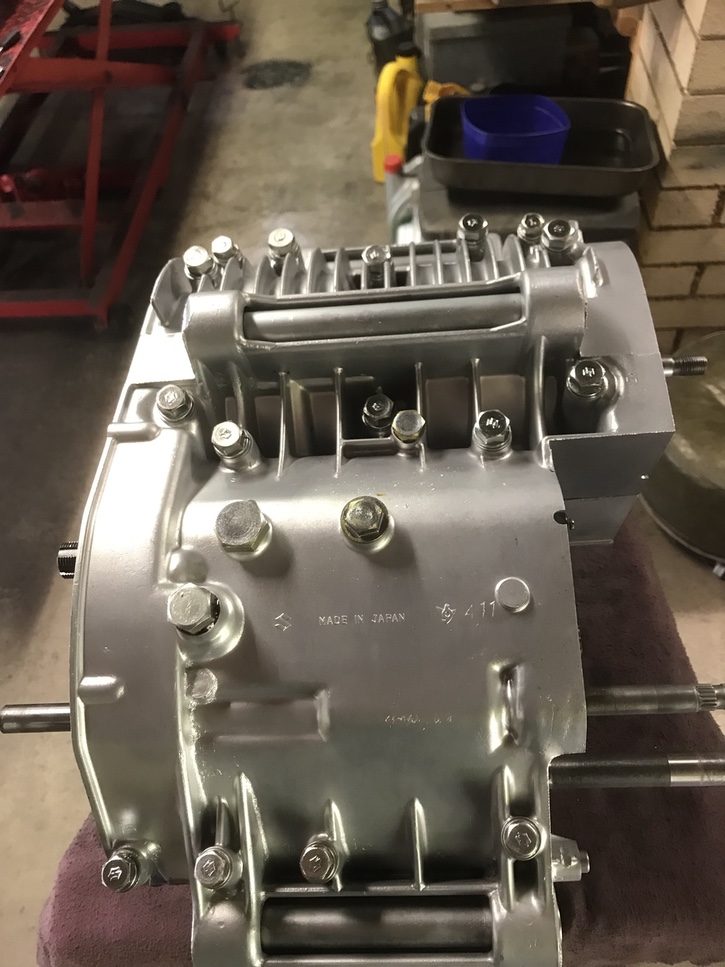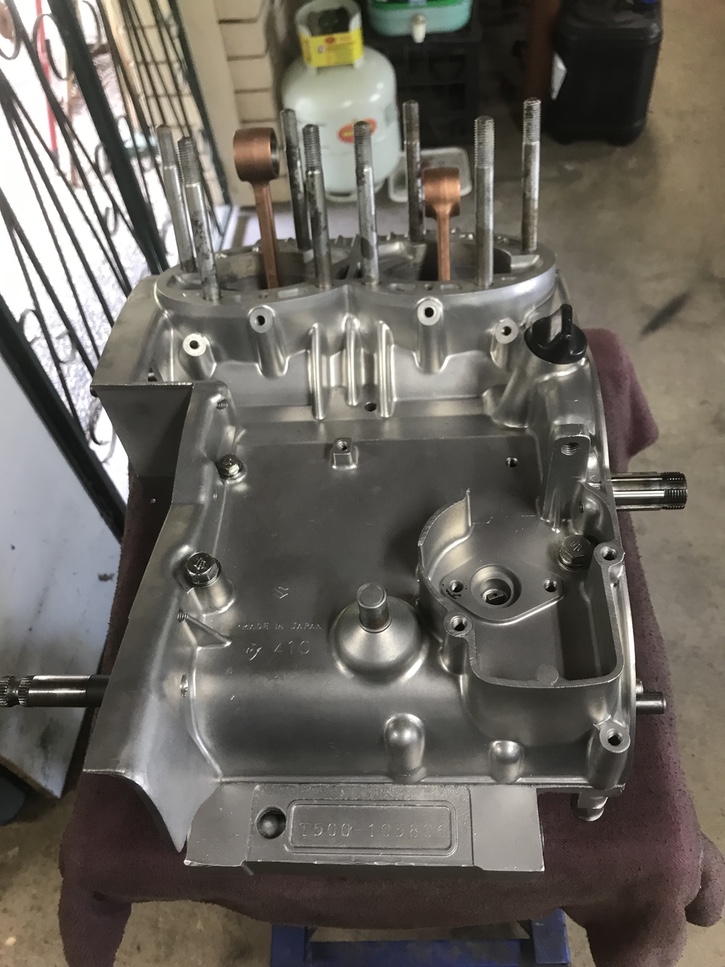 Bottom end now buttoned up.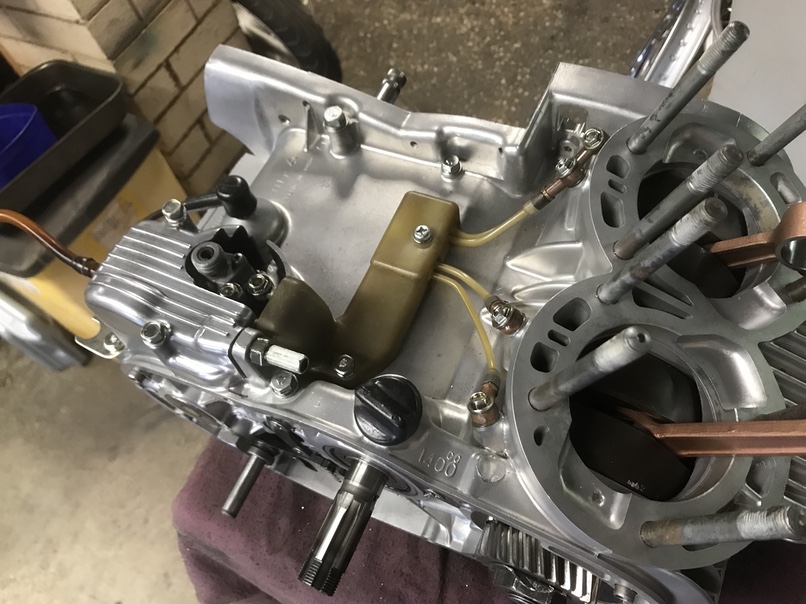 Oil pump fitted but I did not end up
using the plastic line cover as I learned the GT never used one
although the mount threads are there for one.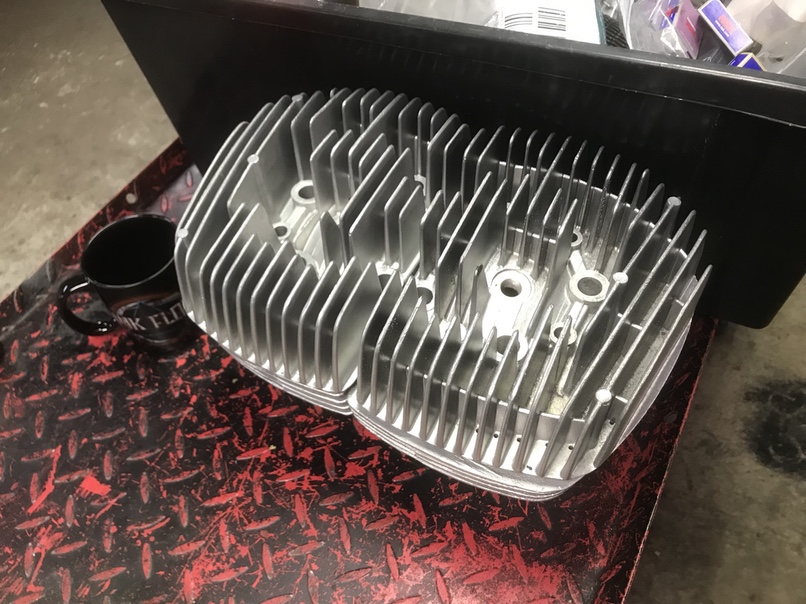 So I used the heads and barrels from the spare T500 motor.
now nicley vapor blasted.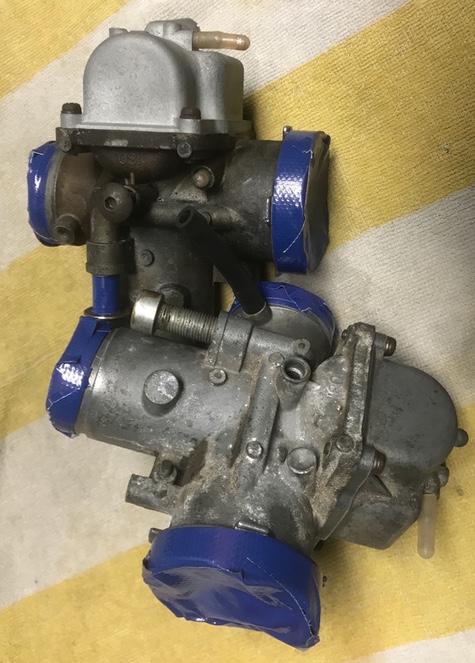 Carbs prepared for cleaning.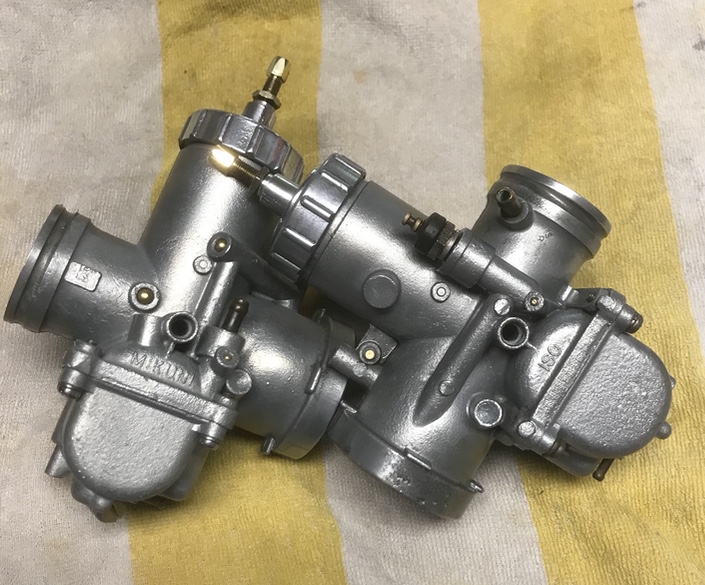 Also vapor blasted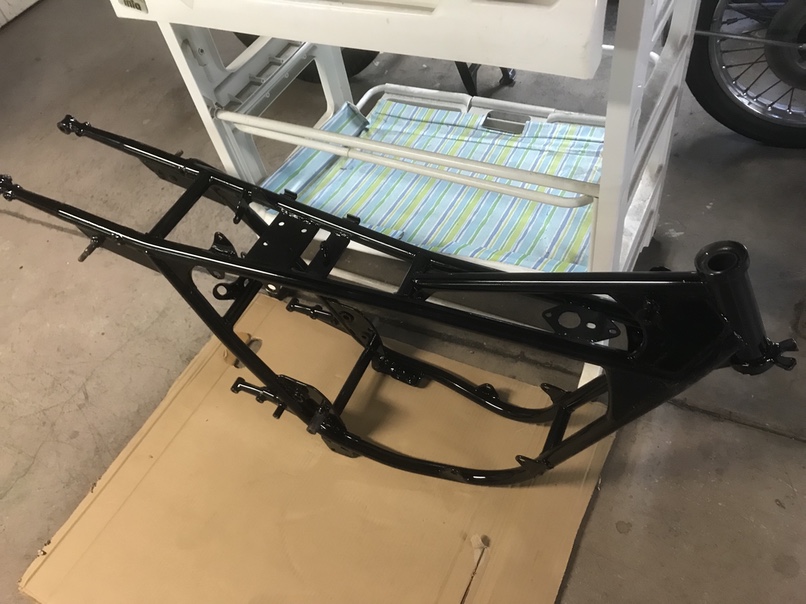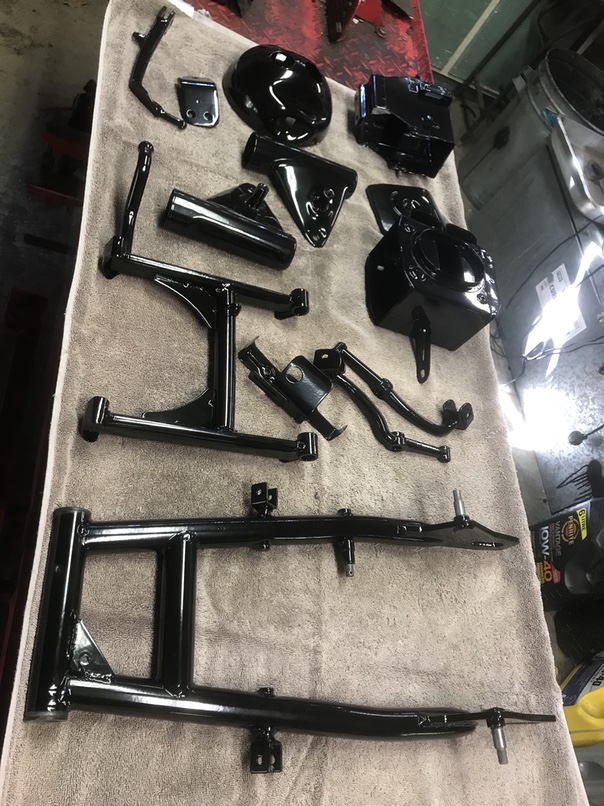 Yummy :)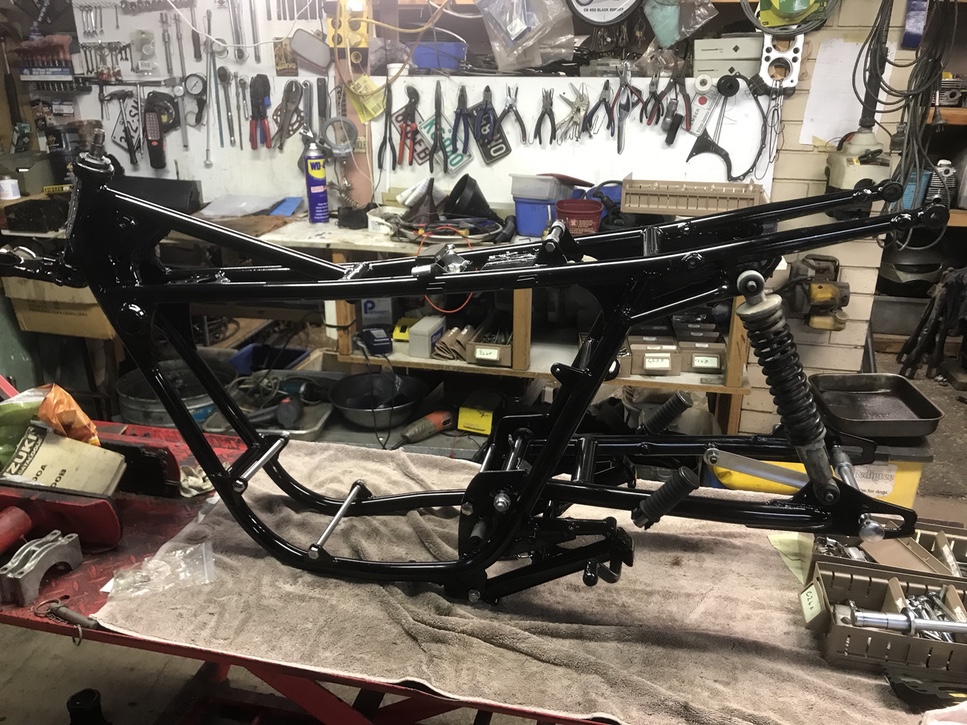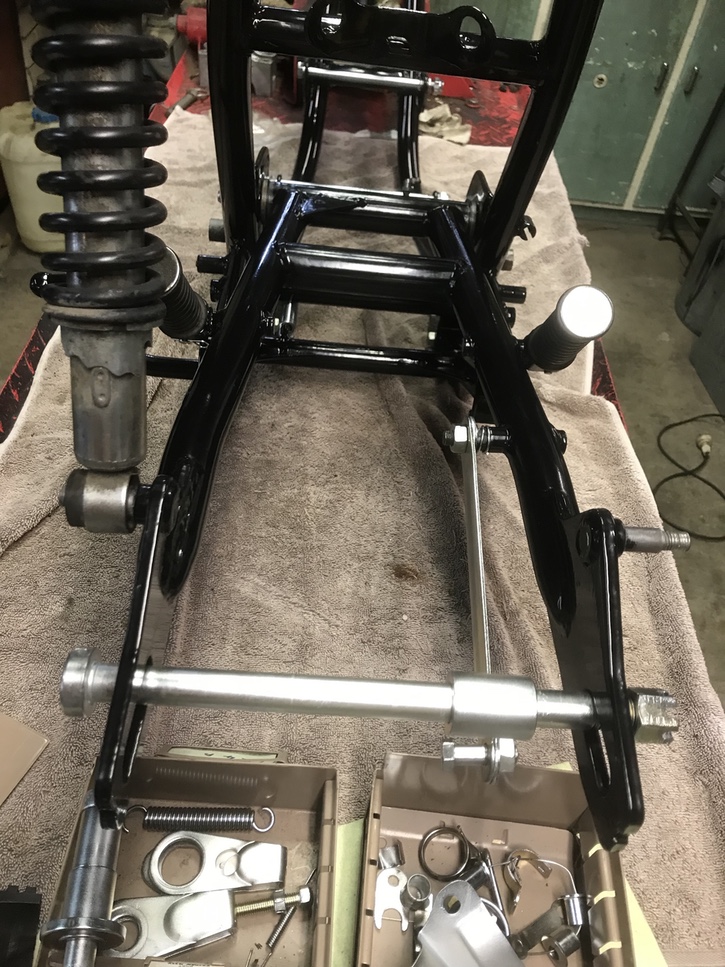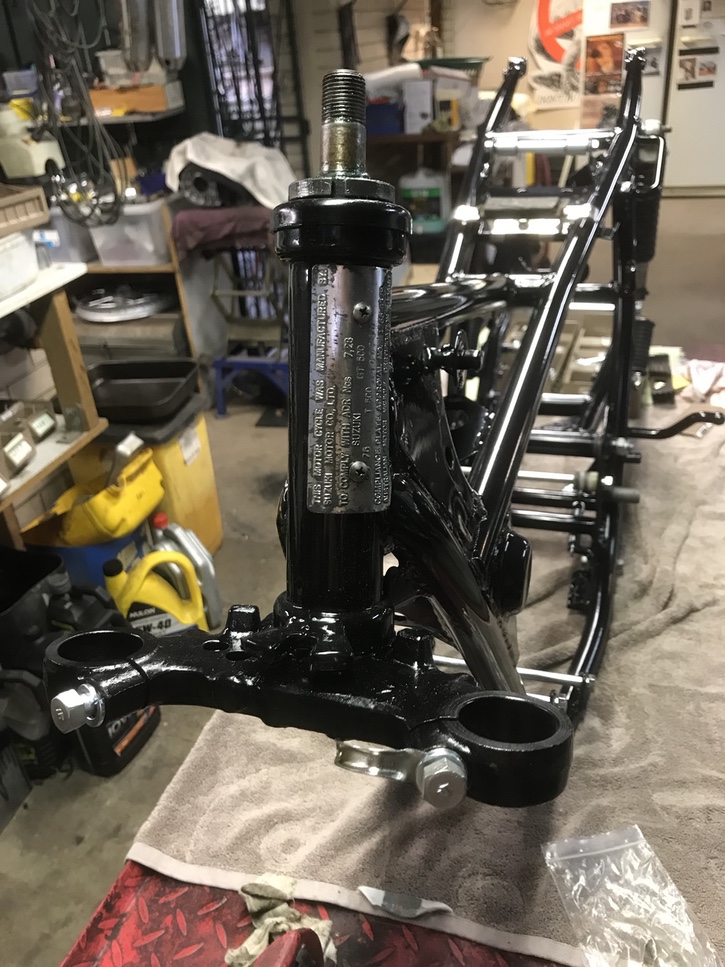 Frame now nicely powder coated
New swingarm bushes used
New bearings (balls) in the triple tree.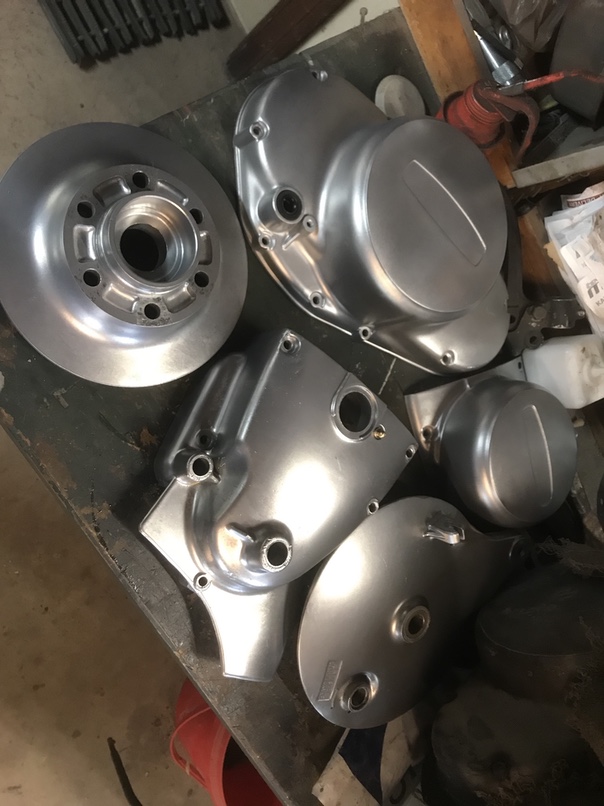 More alloy bits vapor blasted.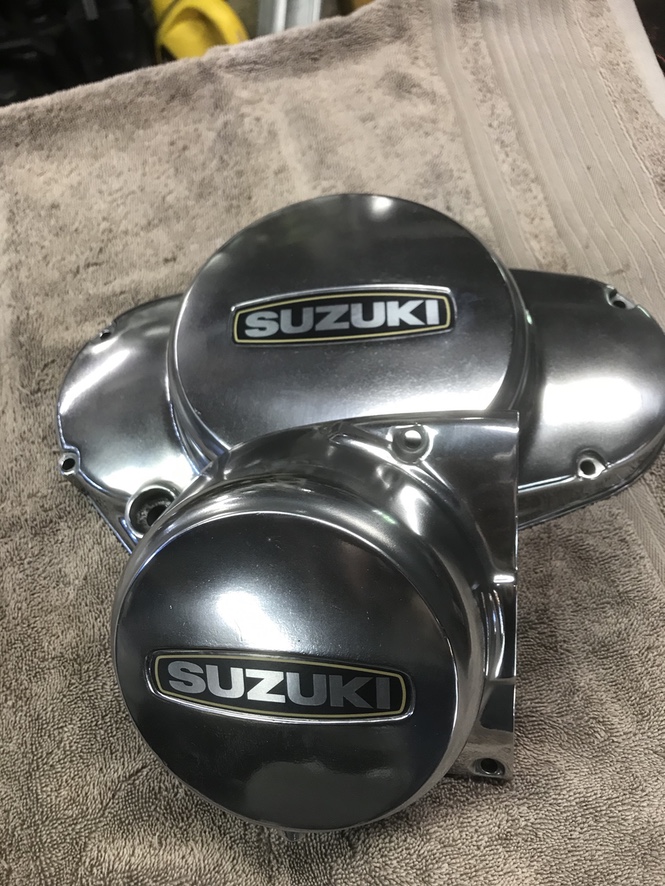 Start polishing and add new decals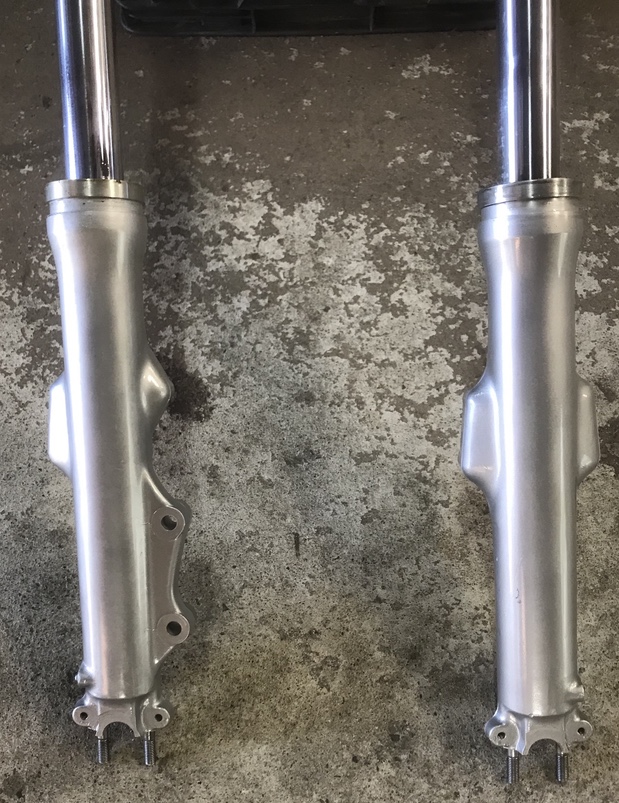 Fork lowers were vapored and I clear coated
Of course new seals were used.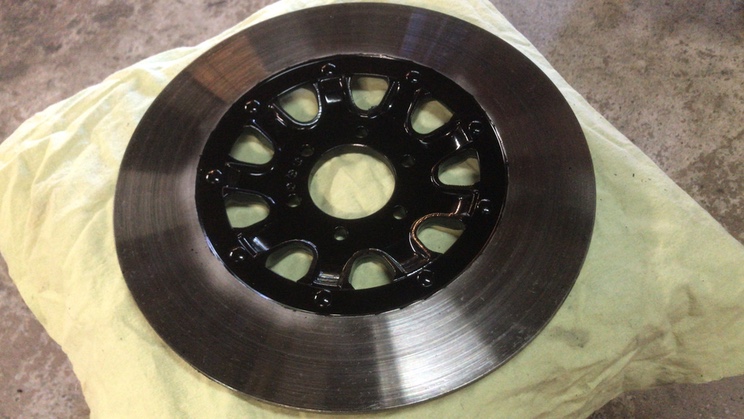 Gloss caliper paint was used for the disc center.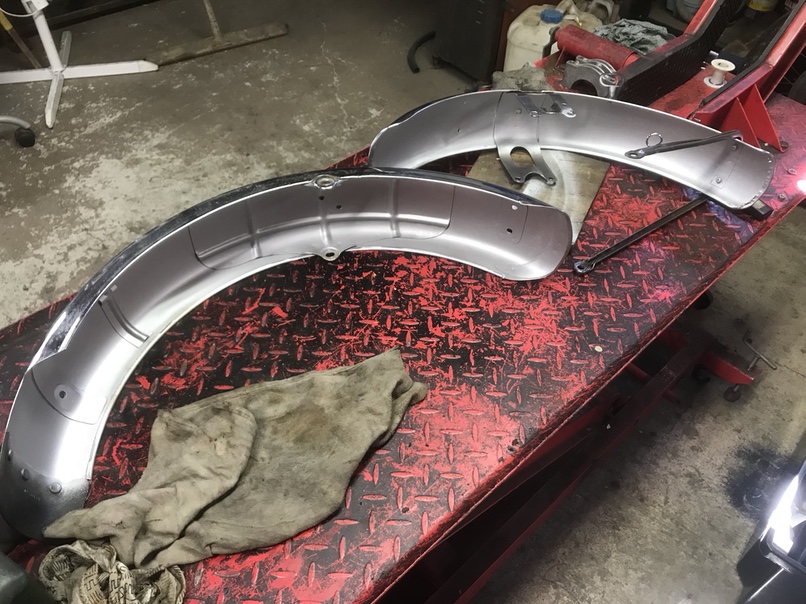 Guards cleaned up and under painted with epoxy silver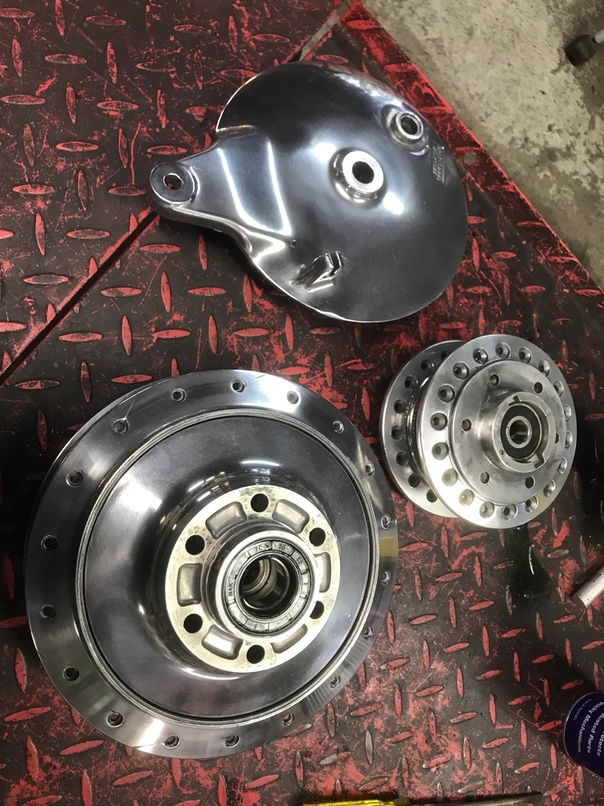 Hubs polished and new bearings fitted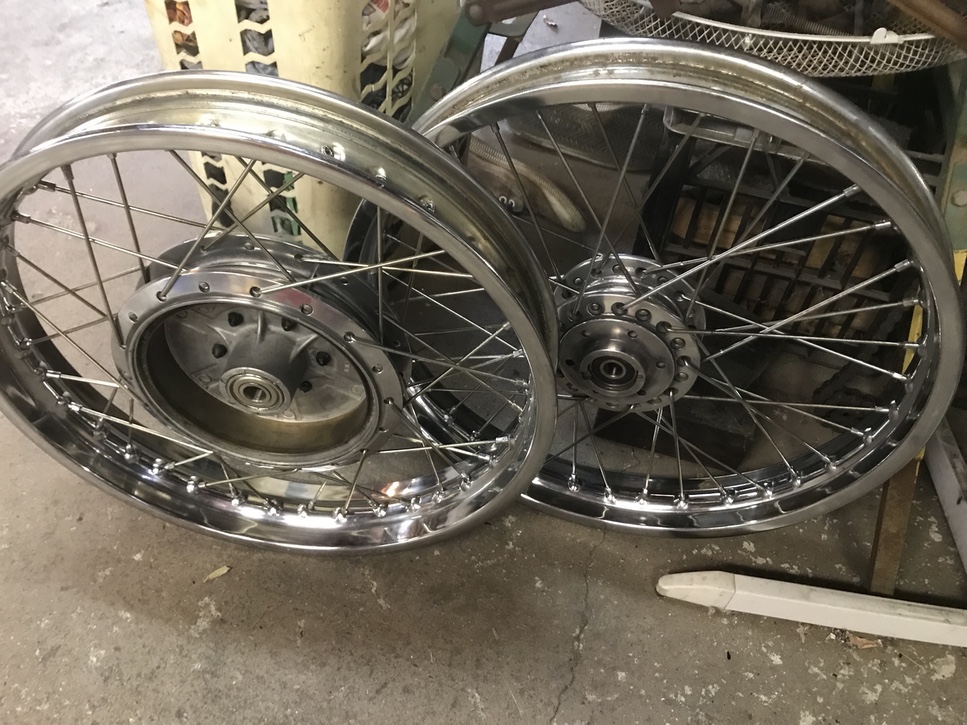 Spokes were replated and reused.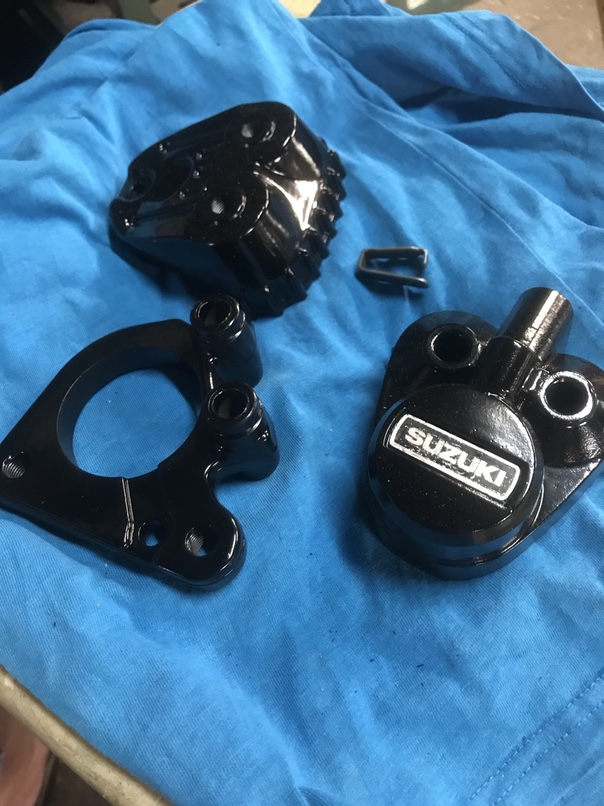 Caliper paint used, all new internals used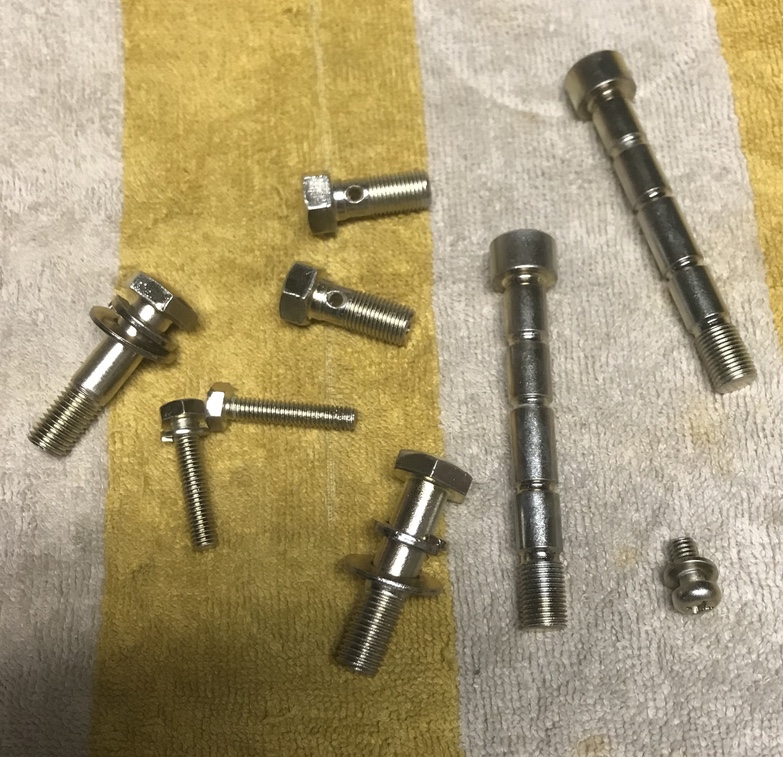 New plated mount bolts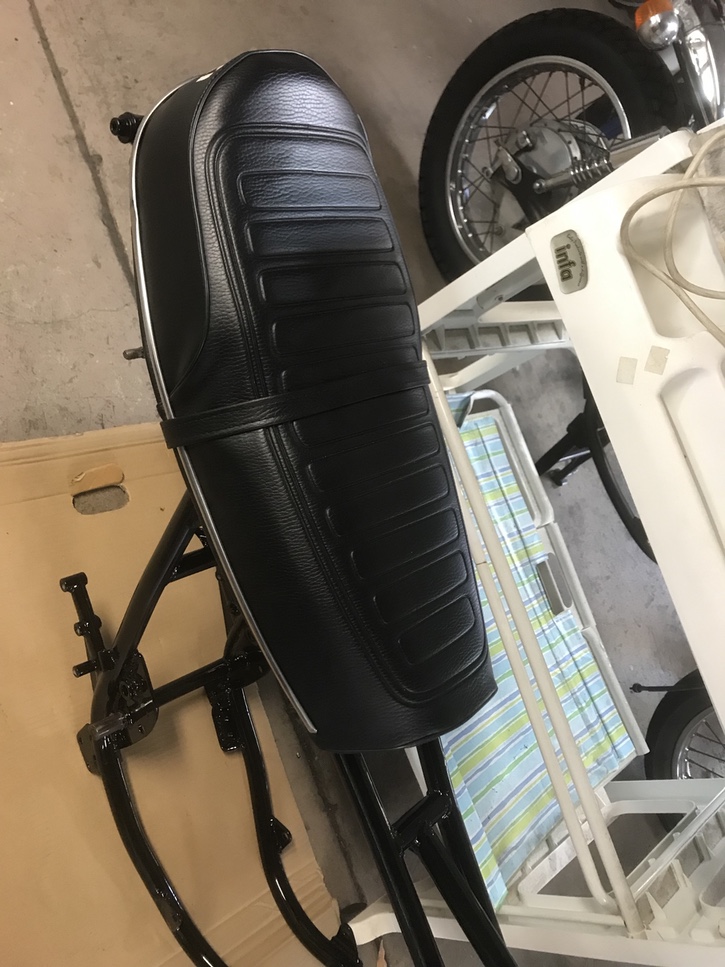 New cover for the seat,
the under was treated to new epoxy black gloss paint.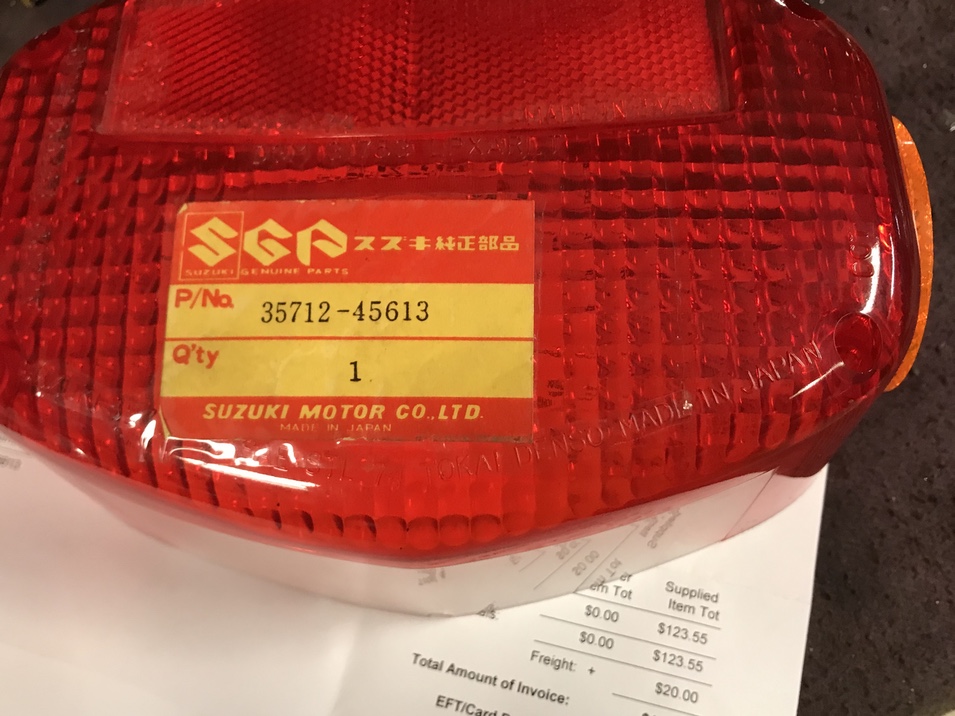 New tail light lens, yes that was the cost.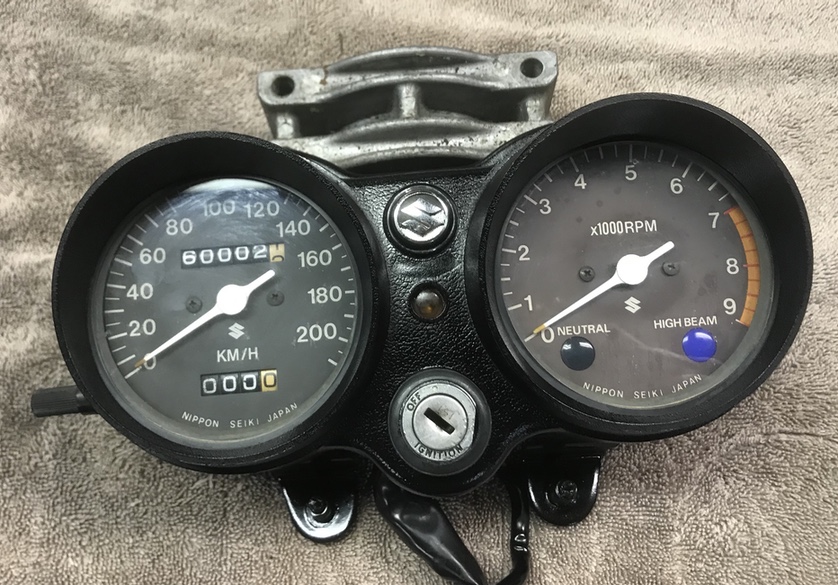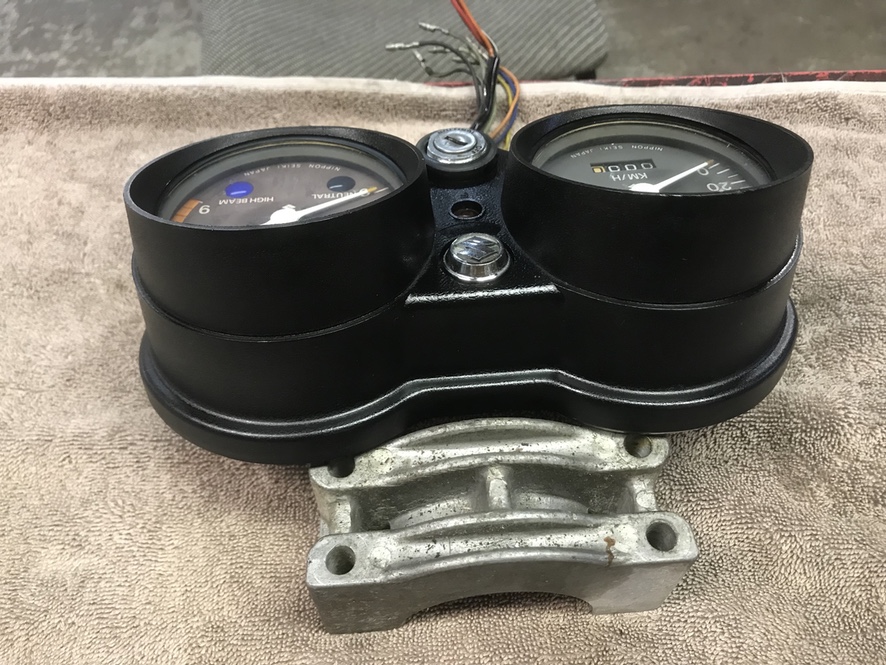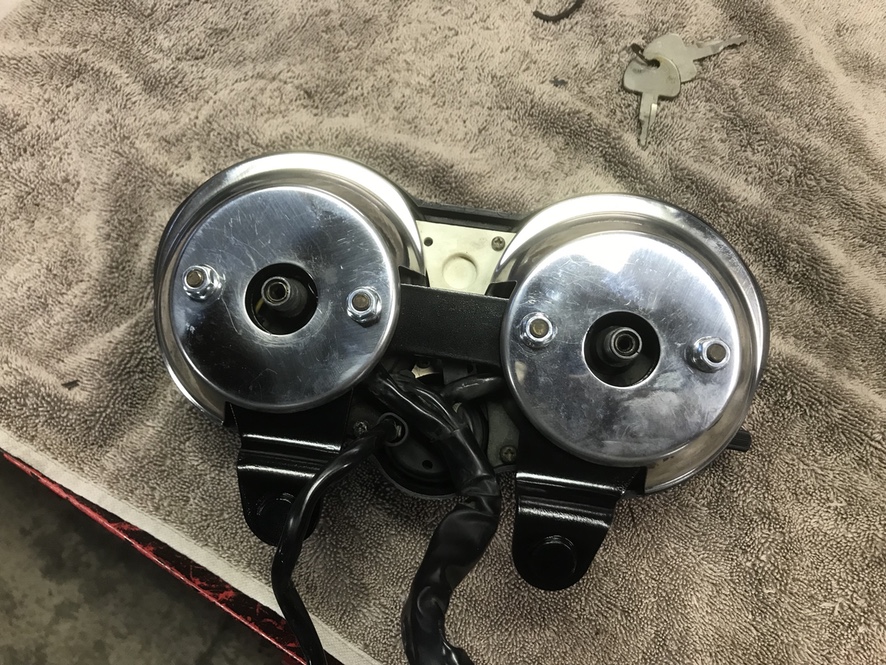 Instruments overall were pretty fair
So I stripped, painted the outer and replace bulbs and painted the mount bracket.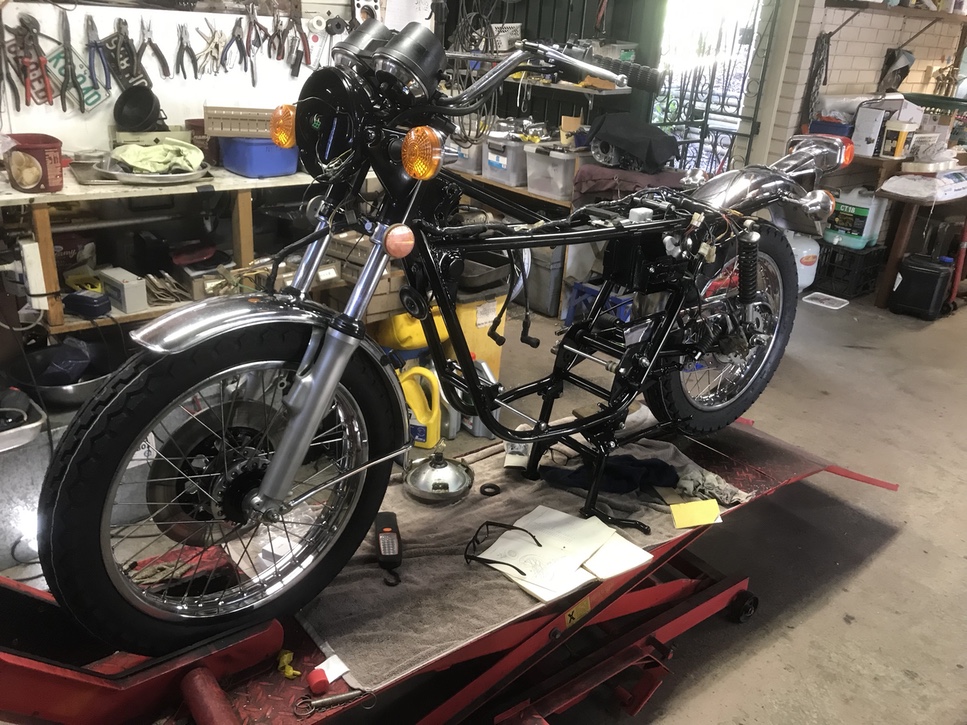 After many many hours we are now rolling.
If you need to know anything more about this build up to this point
email me, see link at bottom of page,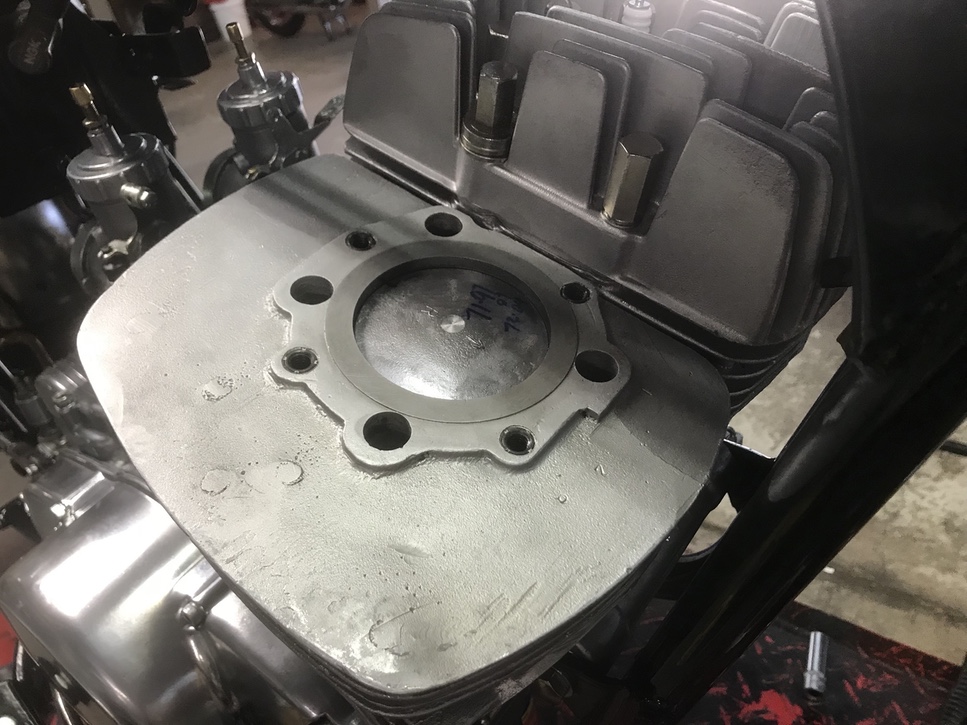 Top end got nice new pistons, these are +2mm overs.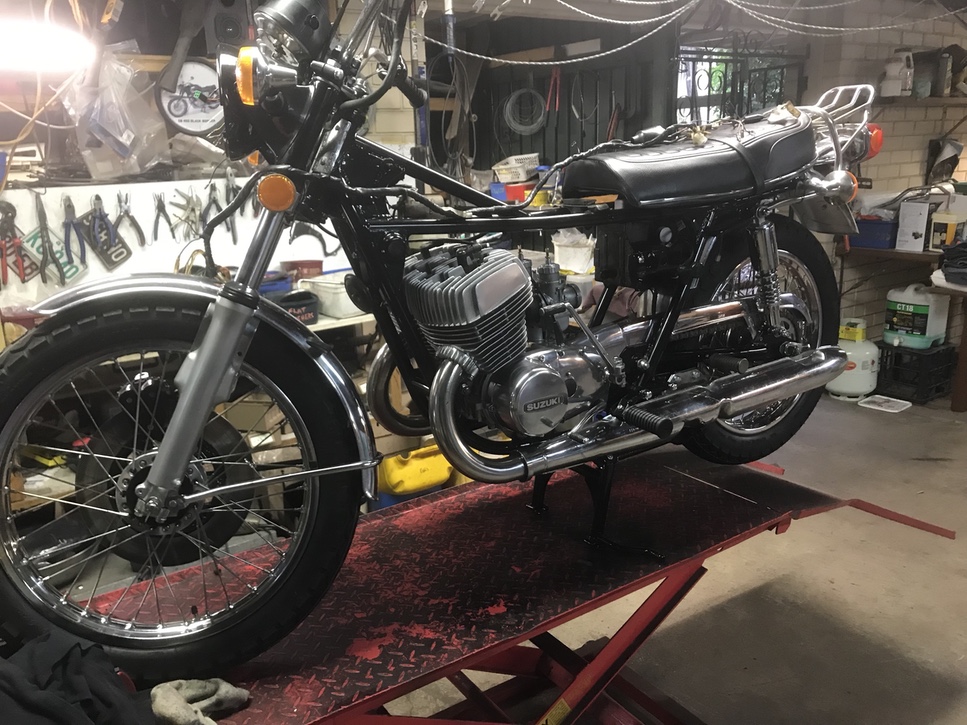 About 2/3rds there now and getting into harness work.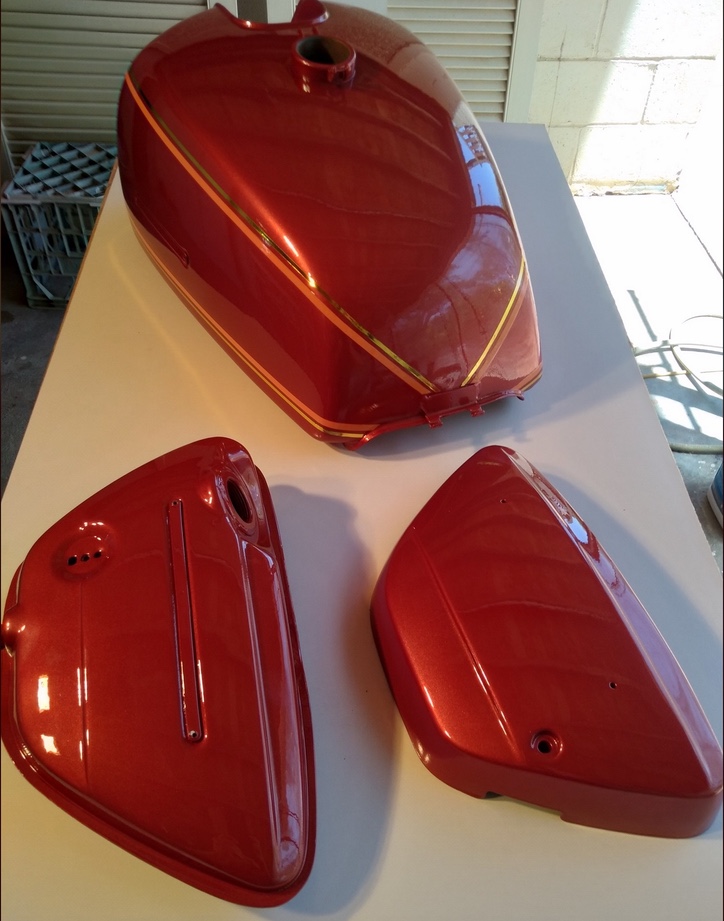 Some pretty paint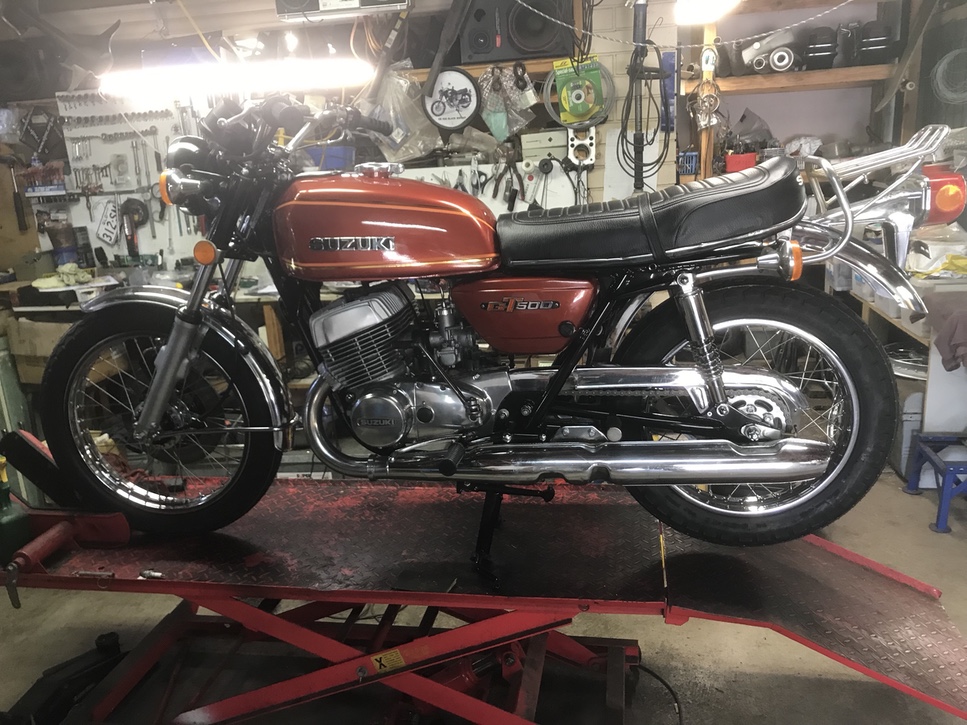 About 90% done here, fiddly bits to go,
more pictures soon.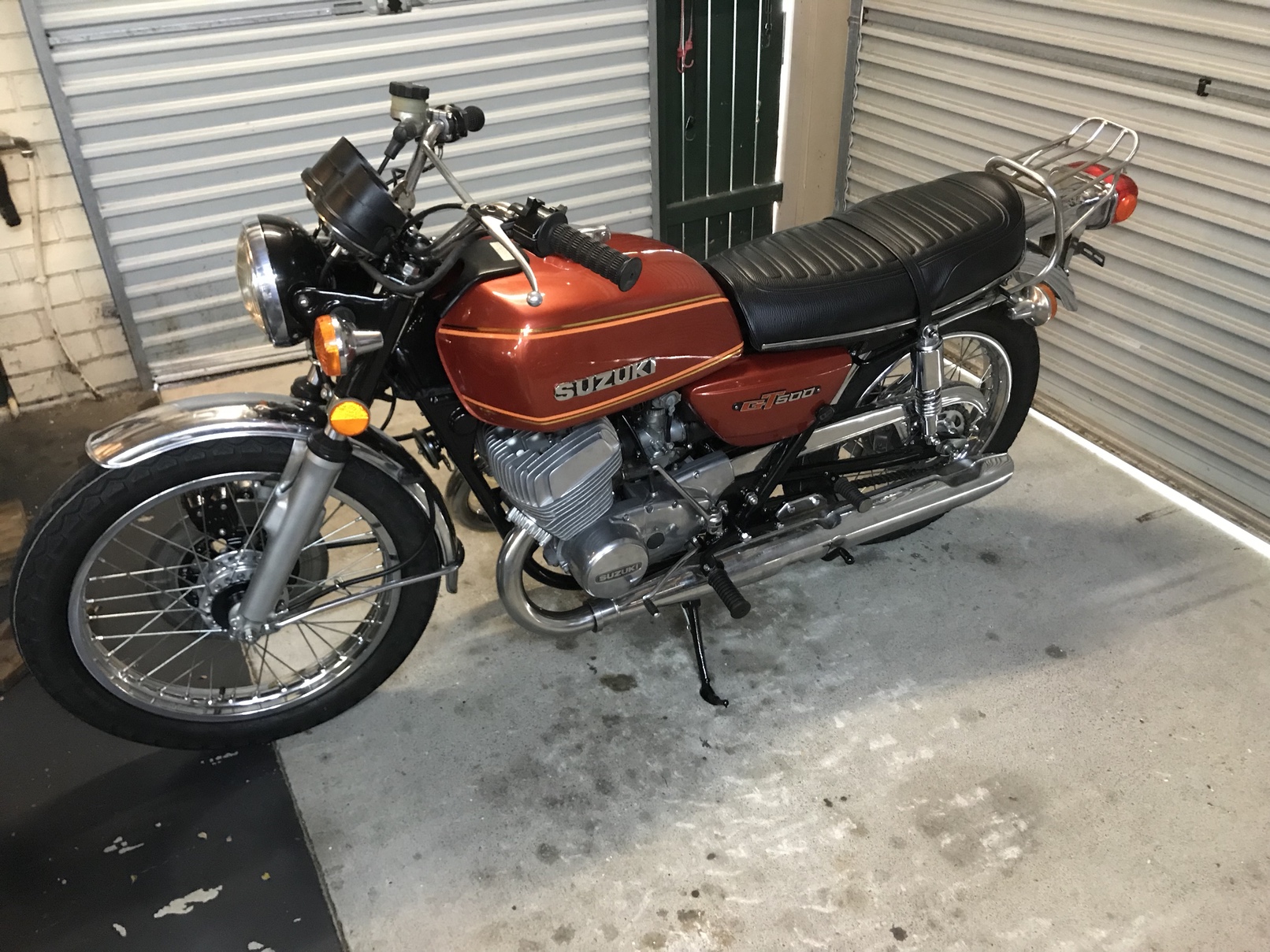 15/12/2020, first test ride successful,
I'll finish this page with a number of finished images soon.
If you need work done on your classic machine, from basic service to full rebuilds, contact me, I can help.
+++++++++++++++++++++++++++++++++++++++++++++++++++++++++
netbikes is a registered business with the Queensland office of Consumer Affairs.
Business Names Act 1962 - 1990 Section 7 (4) Business # BN5951173
++++++++++++++++++++++++++++++++++++++++++++++++++++++++++
© netbikes Motorcycle ONLY Classifieds Australia
Brisbane 4122 QLD AU Ph. 0422819200
netbikes@netbikes.com.au